[Previous entry: "Reggie Bush + $100,000= Not a Black & White Issue"] [Next entry: "Damn Homie What The Hell Happen To You? NFL Players on the Downside"]
09/19/2006: "TOP TEN MOST VILE AND MORALLY DESPICABLE BOXERS"


TOP TEN MOST VILE AND MORALLY DESPICABLE BOXERS
Written Zeferino Jackson
Email Zeferino Jackson

If it were for combination punching and ducking punches alone, boxing would not be the legendary sport that it currently is. Thankfully, unlike UFC, boxing is littered with genuine personalities and their real experiences to go with them. Some of the greatest boxers of all time, possibly most of them, have had very shady pasts. The following list depicts some of the greatest boxers to grace the sport and the troubled past that accompanies them.


Click Here for TOP TEN MOST VILE AND MORALLY DESPICABLE BOXERS




1-James Butler

*Once feigned shaking hands with an opponent after a fight only to later unleash an unexpected hellacious punch to the jaw of the opponent knocking him out.

*Enamored Sam Kellerman and murdered him in cold blood after suspecting him of cheating on him with another man.

*Once punched a referee in the groin on purpose.

*Suspected of raping two elderly incarcerated men.




2-Mike Tyson

*Found guilty of rape.

*Admits to having mugged old ladies.

*Bit off a piece of Evander Holyfield's ear.

*Tried to break Frans Botha´s arm.

*Threatened to murder Lennox Lewis' unborn children.

*Stated publicly that he wanted to stomp the testicles of all journalists.

*Stated once that he enjoys performing anal sex on constipated women and making them bleed.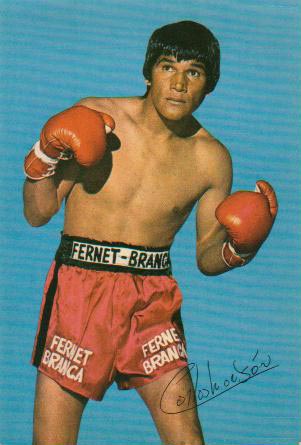 3-Carlos Monzon

*Beat every woman he ever met except his mom.

*Hit his last wife with a left uppercut and then threw her off of a balcony after suspecting that she had been sleeping with black superstar, Pele. She died.




4-James Toney

*Talks like Bernie Mac.

*Is a fat slob and an embarrassment to the sport of boxing.

*Has terrible body odor and a horrendous ass crack.

*Is vulgar and has beat up on women.

*Used to steal cars in Michigan.

*Allegedly once arrested for a peeping tom violation.

*Uses curse words regularly.

*Does not complete sentences without saying "motherfucker".

5-Benard Hopkins




*Has admitted to robbing elderly women at gun point.

*Known as "Soapy" and "Executioner" for his sexual exploits with fellow inmates while incarcerated.

*Speaks horrible English.

*Uses curse words frequently.

*Lied to his mother on her deathbed.

6-Oscar De La Hoya




*Racist. Once stated African Americans boxers have no balls, no heart. Called Bob Arum a thieving jew.

*Extremely promiscuous. Has fathered multiple children with multiple women and doesn't visit them.

*Never beat a fighter in his prime without controversy.

7-Roy Jones Jr.




*Makes "songs" about smoking marijuana and receiving oral sex with multiple women and then peddles these songs to youngsters.

*Disrespects the sport of boxing by having sex with women in his locker room before a fight.(See photo)



*Once seen wearing thong underwear in the locker room.

8-Emile Griffith




*Unsportsmanlike. Threatened to kill Benny Paret and then did it.
*Openly homosexual. (see photo) Reportedly would become aroused while in clinches with his opponent
and would often initiate clinches because of this.




9-Muhammad Ali




*Called Joe Frazier a "gorilla" and made him the joke of white society.

*Engaged in post fight sexual orgies towards the end of his career causing him to become more flatfooted.

10-Sonny Liston




*Notoriously vulgar and obscene.

*Frequently sought out white women for perverted purposes.

*Died masturbating to a magazine with Marilyn Monroe in a bikini.

*Owed money to the mob for failing to pay for the services of a white prostitute.

*Later threw the second fight against Ali in order to pay off the debt.