Oklahoma Sooners #1 In USA Today 2011 NCAA Football Coaches Poll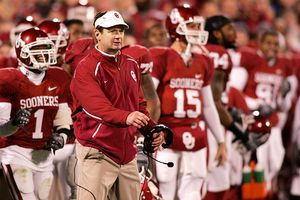 Oklahoma is college football's No. 1 team, followed by Alabama and Oregon, in the USA Today coaches' preseason poll released on Thursday.
The Sooners received 42 of the 59 first-place votes in the poll to easily grab the No. 1 spot in the rankings, which count for one-third of the Bowl Championship Series formula.
Alabama picked up 13 first-place votes and Oregon, which lost to Auburn in last season's Tostitos BCS National Championship Game, picked up two first-place votes.
Oregon #3 rank will be tested when they play the #4 LSU at Cowboys Stadium (b.k.a Jerry Jones Playground) on Saturday September 3rd the opening weekend of the college football season.  Some are calling this game the "Willie Lyles Bowl".
Florida State round out the top 5 and get a shot at #1 Oklahoma September 17th at their home field Doak Campbell Stadium.  Florida State lost to Oklahoma 47-17 last year. Florida St. with a victory sets them up for a national championship run if they can run win out in the ACC and defeat Florida in Gainesville.
Rounding out the top 10 is #6 Stanford,  #7 Boise State, #8 Oklahoma State, #9 Texas A&M, and #10 Wisconsin
Boise State will take their #7 ranking to the Georgia Dome and face the #22 Georgia Bulldogs.  This game is intriguing because if Boise St. can win, they set themselves up to run the table and have a right to play in the national championship like last season when they defeated Virginia Tech at FedEx Field but later lost to Nevada in conference play.
SEC leads with teams in top 25 with 8 teams, Big 10 and Big 12 follows with 5 each, Pac 12 and ACC with 2 each, Boise State, TCU, and Notre Dame are the non-BCS conference teams in the top 25 and Big East is least with 0 teams in top 25.
Rest of top 25 include:
#11 Nebraska    #12 South Carolina  #13 Virginia Tech  #14 Arkansas  #15 TCU
#16 Ohio State   #17 Michigan State   #18 Notre Dame   #19 Auburn    #20 Mississippi State
#21 Missouri      #22 Georgia              #23 Florida            #24 Texas      #25 Penn State