Tyrone Moss Denies Nevin Shapiro Claim of Receiving Extra Benefits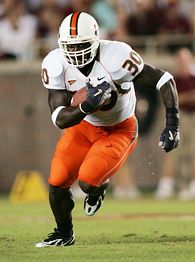 Former Miami Hurricane and Pompano Beach Ely high school running back Tyrone Moss denies Nevin Shapiro's claim of receiving extra benefits.  According to Miami ABC affiliate Local10, he did not accept a $1,000 payment from former booster Nevin Shapiro, who's at the center of an NCAA investigation into the Miami football program.
Moss was one of dozens of Hurricanes players named by Shapiro in an investigation by Yahoo! Sports, which triggered a probe at the school.
Shapiro alleged he provided a handful of extra benefits to Moss during his career with the Hurricanes, including a $1,000 cash payment on his first meeting with Moss and entertainment on Shapiro's $1.6 million yacht.
Here are some words from Tyrone Moss:
"I wanted to clear the air and let everyone know I've never received 1,000 dollars from Nevin Shapiro. Nor have I ever been on his boat or anything like that. Someone has taken my name and tried to destroy my name. I have always been loyal to Miami. Miami is a great place. Miami has been good to my family and good to me. I had some of my best years at the University of Miami. I just wanted to clear the air and make a statement that I have never taken any money or been on any boat like that. For something like this to happen is just crazy."

Moss added, "I don't care how it was quoted, I don't care how it was written or I don't care how it was said. But just to let everyone know, I have never been involved with Nevin. I have no ties to Nevin. I have never taken any money from him, and I have never been on that guy's boat. I just wanted to clear the air, because a lot of people around here are saying this, saying that. What did you say, what did you talk about? I haven't talk to anybody. I have not had direct with anybody. I'm tired of the rumors and things like that. The last few days have been crazy around here for me. I just wanted to clear the air and let everyone know I Iove Miami. I went to school there and had 4 great years there. I would never bash Miami in any type of way or talk negative about Miami. Basically, he (Shapiro) wants attention. That's all."
This changes everything, if Shapiro doesn't have a player on recrod to admit accepting gifts then it's his word vs. Miami.  If anyone still wants to see the Miami Hurricanes receive the death penalty; they are moist individuals that needs to let go of the hate, "Mark May this means you".