USA loses to Belgium 1-0 & 2014 World Cup Qualifying Update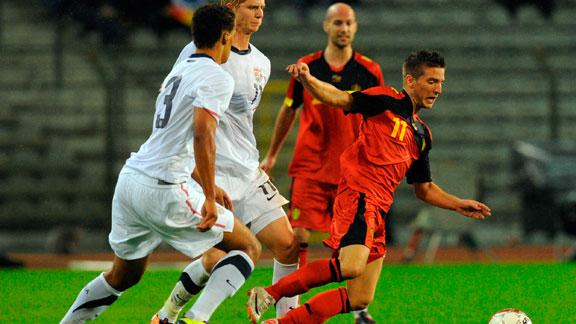 The U.S. national soccer team lost to Belgium 1-0 Tuesday, leaving Jurgen Klinsmann without a win in three games since he was hired as the Americans' coach.
This was the first road game for the U.S. since Klinsmann came aboard. The Americans earlier tied Mexico and lost to Costa Rica.
An inexperienced U.S. team rarely threatened, and second-half substitutes Juan Agudelo and Kyle Beckerman did little to energize play.
Still, the Americans had their best chance five minutes before the end. A midfield cross found its way to Edu, who headed the ball past Belgium's goalkeeper. But the referee disallowed the goal because Clarence Goodson was ruled to have handled the ball inside the box.
Here are the scores from the second set of World Cup qualifiers for 2014 Brazil in the CONCACAF region. Panama, El Salvador, Guatemala, Canada all are at least 2 points ahead of the second place team in each respected group. Meanwhile (Trinidad & Tobago/Guyana) and (Haiti/Antigua & Barbuda), appear to be on a collision course to compete for the top of group as each team has won each of their first 2 games. Next pair of matches will be in October.
Here are the scores of qualifying so far
El Salvador 3 – Dominican Republic 2
Suriname 1 – Cayman Islands 0
El Salvador 4 – Cayman Islands 1
Dominican Republic 1 – Suriname 1
 Trinidad & Tobago 1 – Bermuda 0
Guyana 2 – Barbados 0
Trinidad & Tobago 2 – Barbados 0
Guyana 2 – Bermuda 1
Nicaragua 2 – Dominica 0
Panama 2 – Nicaragua 1
Canada 4 – St. Lucia 1
St. Kitts & Nevis 0 – Puerto Rico 0
Canada 3 – Puerto Rico 0
St. Kitts & Nevis 4 – St. Lucia 2
Belize 3 – Grenada 0
Guatemala 4 – St. Vincent and Grenadines 0
Guatemala 2 – Belize 1
Grenada vs. SVG play September 18th
Haiti 6 – US Virgin Islands 0
Antigua & Barbuda 5 – Curacao 2
Antigua & Barbuda 8 – USVI 1
Haiti 4- Curacao 2