Day two of the ESPN Draft is upon, and it's in the 2nd and 3rd rounds that many a Super Bowl team has been built.  Follow Glenn Erby and Robert Littal for the up to the minute Draft coverage and breaking news.
11:19PM EST: The 2nd round of the draft is over, and the 49ers may have gotten the steal of the draft with Clemson offensive lineman Brandon Thomas at No. 100. 
11:17PM EST: #Ravens take TE Crockett Gillmore at No. 99:
11:15PM EST: #Packers take TE Richard Rodgers at No. 98:
11: 14PM EST: #Steelers take Dri Archer at No. 97
11: 11PM EST: #Vikings pick Georgia Southern RB Jerick McKinnon at No. 96
11:09PM EST: Broncos select Michael Schofield at No. 95 overall. 
 11:08pM EST: Browns select Towson RB Terrance West at No. 94 overall.  Cleveland is killing this draft in spite of Josh Gordon's immaturity.  
https://twitter.com/HubbuchNYP/status/464963219116015616
11:00PM EST: #Jaguars take Brandon Linder at No. 93.
10:55PM EST: #Jaguars take Brandon Linder at No. 93.
Panthers select Trai Turner at No. 92 overall. 
10: 53PM EST: Cardinals select Josh Brown at No. 91 overall.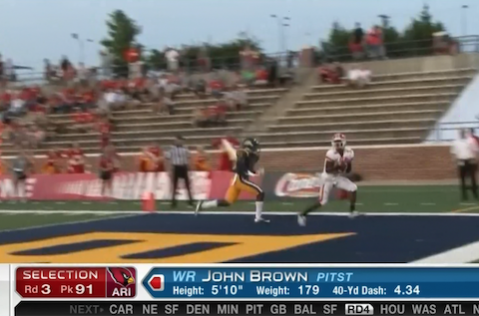 10:49PM EST: Colts get wide receiver help.  Indianapolis select Donte Moncrief at No. 90 overall. 
https://twitter.com/Colts/status/464960337889202176
10:44PM EST: Chargers select Chris Watt at No. 89 overall. 
10:42PM EST: Bengals select Will Clarke at No. 88 overall. 
10:40PM EST: The Chiefs get cornerback help in the midst of rumors about Flowers. Kansas City select Philip Gains at No. 87 overall. 
10: 38PM EST: Eagles select Josh Huff at No. 86 overall. 
Chip Kelly gets another speedy toy, and one he's actually familiar with.
10:36PM EST: Packers select Khyri Thortonn at No. 85 overall.  
10:32PM EST: Cardinals select Kareem Martin at No. 84 overall. 
10: 29:PM EST: The Texans may get the steal of the draft after trading with the Steelers. Houston selects talented defensive tackle Louis Nix. 
https://twitter.com/HoustonTexans/status/46495704020119552
10: 26PM EST: The Bears select Will Sutton at No. 82 overall. 
10:24PM EST: The Raiders select Gabe Jackson at No. 81 overall. 
10:22PM EST: The Jets get help in the secondary. Rex Ryan and company take Dexter McDougal at No. 80 0verall.
10:19PM EST: The Ravens select Terrance Brooks at 79 overall. 
10: 18PM EST: The Redskins and Cowboys make a trade. Washington selects Spencer Long at N0 78 overall. 
10:14PM EST: 49ers make a trade with Titans.  Niners select Chris Borland at No. 77 overall. 
1012PM EST: Lions select Travis Swanson at No. 76 overall. 
10:09PM EST: St. Louis might have one potent backfied. Rams select Tre Mason No. 75 overall. 
10:07PM EST: Giants select Jay Bromley at No. 74 overall. 
10:05PM EST: Bills select Preston Brown at No. 73 overall. 
10:03PM EST: Vikings select Scott Crichton at No. 72 overall. 
10:01PM EST: Browns select Christian Kirksey at No. 71 overall.
10::01PM EST: 49ers select Marcus Martin at No. 70 overall.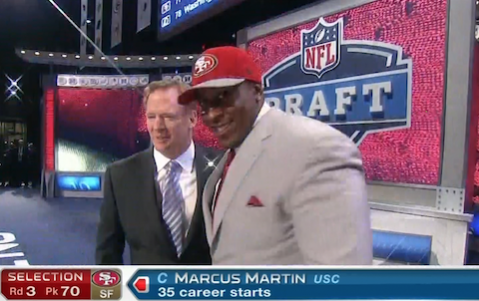 9:55PM EST: Buccaneers select Charles Sims at No. 69 overall. 
9:44PM EST: Falcons select Dezmen Southward at No. 68 overall. 
9:40PM EST: Dolphins select Billy Turner at No. 67 overall. 
9: 35PM EST: Redskins select an emotional Morgan Moses at No. 66 overall. 
9: 30PM EST: Texans select Iowa TE C.J. Fiedorowicz at No. 65 overall. 
9: 24PM EST: Seahawks get offensive line depth. Seattle select Justin Britt. 
9:19PM EST: Dolphins get a grown man at wide receiver.  Miami selects Jarvis Landry at No. 63. 
9: 16 PM EST: The Patriots can now trade Ryan Mallett.  New England selects Jimmy Garoppolo at No. 62. 
9: 12 PM EST: Jaguars continue to stockpile weapons on offense.  Allan Robinson is selected at No. 61 overall. 
9:10PM EST: The Panthers are trying to get the steal of the draft. Carolina select Kony Ealy at No. 60 overall. 
9:06PM EST: Colts select Jack Mewhort at No. 59 overall. 
9:04PM EST: Saints select Stanley Jean-Baptiste at No. 58 overall. 
9:02PM EST: 49ers can never have enough running backs.  San Francisco selects Carlos Hyde at No. 57. 
8:58PM EST: Peyton Manning gets another pass catcher. The Broncos select Cody Latimer at No. 56. 
8:58PM EST: The Bengals could have gotten the steal of the draft. Cincinnati select Jeremy Hill at No. 55. 
8:57PM EST; Titans select Bishop Sankey at No. 54 overall. 
8:44PM EST: Packers get a productive pass catcher in Davante Adams at No. 53 overall. 
8:42PM EST: Cardinals select Troy Niklas No. 52 overall. 
840PM EST: Bears select Ego Fergurson No. 51 overall. 
8:38PM EST: Chargers select Jeremiah Attaochu No. 50 overall. 
8:36PM EST: Jets select Jace Amaro No. 49 overall. 
8: 25PM EST: Ravens select Timmy Jernigan No. 48 overall. 
8:22PM EST: Redskins select Trent Murphy No. 47 overall. 
8:19PM EST: Steelers select Stephon Tuitt No. 46 overall. 
8:18PM EST: Seahawks select Paul Richardson, No. 45 overall. 
8:11PM EST:  Bills select Cyrus Kouandjio No. 44 overall. 
8:07PM EST: Giants select Weston Richburg No. 43 overall. 
8:02PM EST: Eagles select Jordan Matthews No. 42 overall. 
7:49PM EST: Rams select CB Lamarcus Joyner at No. 41 overall. 
7:47PM EST: Lions select Kyle Van Noy No. 40 overall. 
7: 44PM EST: Jaguars select Marquise Lee No. 39 overall. 
7:40PM EST: Buccaneers select Austin Seferian-Jenkins No. 38 overall. 
Tampa Bay is quietly having a quality draft.
7:39PM EST: Falcons select Ra'Shede Hageman No. 37 overall. 
7:27PM EST: Oakland pulls the trigger on a passer.  The Raiders select Derek Carr No. 36 overall. 
7:26PM EST: The Browns must feel confident about Josh Gordan. Cleveland drafts Joel Bitonio No. 35 overall. 
7:20PM EST: Cowboys select Demarcus Lawrence No. 34 overall. 
7:19PM EST: Redskins trade No. 34 pick to the Cowboys.
7:12PM EST: Round two is underway.   Texans select Xavier Su'a-Filo at No. 33 overall.  
6:23PM EST: The Cleveland Browns are not loved by the football gods.
As we open up the second round of the NFL Draft the Browns are again hogging all the attenion, but this time for the wrong reasons.  Adam Schefter is reporting that Josh Gordon is facing a season long ban for a second failed drug test.