Report: Phil Jackson told Carmelo The Knicks Will Hire Steve Kerr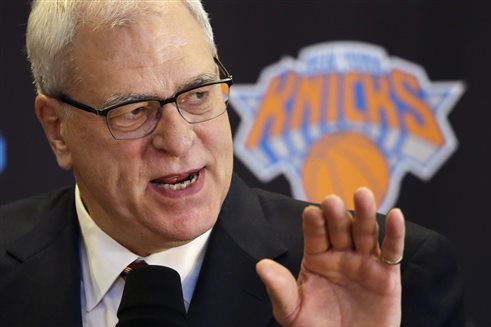 According to The Wall Street Journal's Chris Herring, Knicks president Phil Jackson told Carmelo Anthony over dinner that he will hire Steve Kerr to coach the New York Knicks.
In sitting down with Anthony, who has made it abundantly clear that he wants to play for a winning team next season, Jackson wanted to allay any concerns Anthony might have about Kerr's inexperience as a coach. (Kerr, who played under Jackson with the Chicago Bulls, has never coached at any level.) Jackson tried to do that, the sources said, by telling Anthony that he'd be both visible and available on the sidelines while the team takes part in training camp.

"Phil wanted [Anthony] to know that Kerr and his thinking will simply be an extension of himself," one of the sources said. "He wanted Carmelo to know he'll still be able to coach him by extension."

The two never discussed the idea of someone other than Kerr coaching the team.
The ball is in Carmelo Anthony's court now.  Anthony must decide if he can handle another middle of the pack season for the Knicks, while preparing to make a huge splash in free agency.