It's been over a year since I've written a blog post and I won't lie, I did miss the idea of writing, sharing and blasting the opinions of myself, others and thoughts of mindlessness. For better or worse, there is still a whole lot of dumbfounded people, ideas and quotes by the athletes we as a society come to obsess, follow and fight over.
And I think that's why I have become motivated to write again.
Last night, the NBA season finally started. Something many of us have been waiting for since ultimately last June, but for some…even earlier than that. People in NYC thought this would be the season of redemption and return to glory.
But all summer, while we all anxiously waited for quite possibly one of the most anticipated NBA seasons in a long time, many of us had conversations about the league, certain players – past and present and ESPN solidified itself as the ultimate hype machine.
And now that the season has started, not only will these conversations continue, but they will be much dumber, far more ignorant and much worse than the arguments we had each other during the off-season.
I can't highlight all the types of people that these unintelligent conversations stem from, but I will point out the ones I've had to experience and lose brain cells to.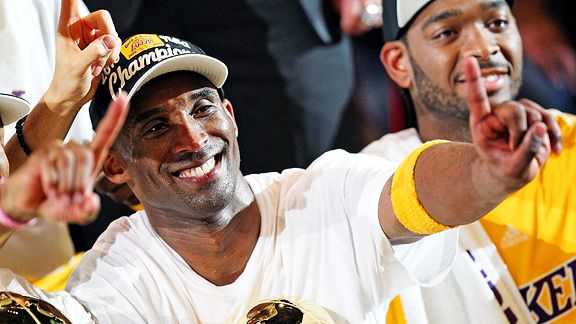 1. Laker Fans – As a life-long, die-hard Laker fan, I will be the first to admit that many Laker fans (not all) are retarded, blind, annoying and just damn-right stubborn.
2. Miami / Lebron Lovers – Go ahead. Jump on the bandwagon. It's fine. But they've already talked way too much and the season is only one game in. I include ESPN here.
3. Miami / Lebron Haters – We get it. They haven't proven anything. Shut up and get over it.
4. Boston – Poor city has been overlooked cause of all the nonsense in South Beach. So the green faithful are upset and now even more riled up because of their 1-0 record over Miami. Let the world now jump to conclusions.
5. Laker / Kobe Haters – I didn't want to list these people directly under Laker fans for fear of hearing people complain…But I'm not sure who is worse. Laker fans or Laker haters. They are both equally unbelievably brilliant. Right.
6. The Michael Jordan discussion – It's sickening that Harold Miner isn't being included in all the circular arguments.
NOTE: Because I probably have to, these categories of people are not representative of every single person who associates themselves with one or more of the listed groups. But it does cover a majority.
Let's piece it together now.
Yes, Miami 3.0 lost their first game. You know what; they will probably go 1-2 as they learn how to play basketball together. People will start talking about how they suck and it was a dumb idea and how Lebron sucks with his turnovers at an all-time high and etc. For goodness sake, stop. They will still stomp through the season. Will they go 72-10? No. It'll be hard enough for them to get a 15 game win streak with the entire world gunning for them each and every night. If any team can do it, the Celtics have the best chance because of their depth and focus. That team is a straight machine and will systematically go through the season. They won't hit 70 wins, but if a team could this season, it's them. A team with 5 future Hall of Famers in your starting line up to begin the season is no joke. I am curious to see how Shaq deals with Paul Pierce's flopping though.
And yes Laker fans, I did say Rondo will be in the Hall of Fame when it's said and done. And don't start a "Boston sucks" chant outside of Staples at the beginning of the season.  Because, well…they don't. If anything, start a "Bynum sucks" chant to get him riled up and hope he can actually play an entire season. Odds are: he probably won't. We might have been wrong about Greg Oden. He might be Andrew's father and not Lebron's.
And on that thought, Kobe continued his pre-season shooting slump as he gets back into the rhythm and getting his legs back. To the point where Pau took a few more shots and Kobe had a game-winning assist to Steve Blake (yes, Steve Blake). And the Laker fan riot ensues. Enter panic mode. Really? But the panic happens ever so quietly (think: crowd at a Laker home game). Please take a look at one of the most complete Laker squads in years and understand that while this is Kobe's team, it surely no longer revolves around him. He will take majority of the shots and typically the biggest ones, but with 15 years in the L, don't enter panic mode because he can't hit jumpshots. Eventually he will turn into a beast in mid-season form but have more respect for the rest of that team. Pau Gasol, Lamar Odom and the rest of this team play basketball too. Stop thinking that the success of this team relies solely on Kobe Bryant. It doesn't. It actually never did. This isn't an MVP year for him; it's him trying to get his 6th ring, year.
But on that same note, to those who will dedicate the season to killing Kobe and celebrating every time the Lakers lose because they get joy out of seeing those stubborn Laker fans update their depressing Facebook status about losing two games in a row…I have two thoughts. If that really is you, you really need to find something much more fulfilling this season. Maybe become a Thunder fan and appreciate who Kevin Durant really is. Secondly, if you are that guy, you need a girlfriend.
From a basketball standpoint, the Lakers do not suck. The Heat? They won't either. As for the Celtics…they won't either. The Cleveland Cavaliers…that's a different story. So stop hating, and as this is likely the last season before we hit an NBA lockout and could potentially not have a season next season, just appreciate this season for what it is, and what it could be.
And as for the Jordan vs. Kobe vs. Lebron commentary. Just stop. Jordan has what he has. Kobe has what he has, and they will never be the same. You can compare and compare, but it really will never be solved until both careers have come and gone. Kobe still has a few years left and Jordan still thinks he can come back and play. Let them be. Oh and yes, after a summer full of Lebron James commentary, he still…has nothing. But what will he do? (Good job, Nike).
The NBA season is officially back, and for once…without the panic attacks and unbelievable arguments that happen over dinner, in the parking lot and on Facebook and Twitter…it'll be better for all of us.