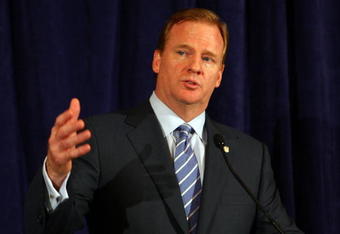 Titans wide receiver Kenny Britt and Buccaneers defensive back Aqib Talib each will meet Tuesday with NFL Commissioner Roger Goodell to discuss their arrests during the lockout according to the Associated Press.
Britt says he is praying that nothing happens as far as discipline once he meets with Goodell. Britt was arrested twice in New Jersey and surrendered himself on two arrest warrants in Tennessee for giving inaccurate information on driver's license applications.
The first-round draft pick out of Rutgers in 2009 has had seven incidents with police since being drafted.
Right guard Jake Scott, the Titans' player representative, says he anticipates a legal fight if Britt is suspended or fined for anything that happened during the lockout because players received letters confirming they were not part of the team. Scott says Goodell probably is right to remind Britt he's watching him.
Tampa Bay Buccaneers CB Aqib Talib also will meet with NFL Commissioner Roger Goodell on Tuesday in New York, according to a source with knowledge of the situation.
Talib's trial on charges of aggravated assault with a deadly weapon is not set until March and Talib is so adamant of his innocence on the charges that he turned down a plea deal for a minor misdemeanor, according to sources. The Bucs, with knowledge of some evidence, feel good about his ability to play this season.
Additionally, sources with knowledge of the evidence of the case say that the person accusing Talib is a convicted felon, who has considerable character issues and his testimony does not match others at the scene.
Talib has had discipline issues in the past, but it's rare for the league to issue discipline prior to the legal resolution of a case like this.
Britt and Talib may be saved from suspensions since the arrest occurred the lockout; but if a week ago you would have told me that Goodell could suspend Terrell Pryor for actions while in college I would have said "no way" … so stay tuned!