Celebrating Kobe's 36th BDay With 36 of the Top Moments in His Career
Heading into his 19th (19!) season in the NBA, Los Angeles Lakers guard Kobe Bryant has a long list of career highlights and accomplishments. The five-time champion and former MVP turns 36 this weekend, and in honor of his birthday let's take a look at 36 of the top moments in his legendary career in no particular order.
1 -Kobe 62, Dallas Mavericks 61 through three.
Throughout his career, Kobe has put on plenty of insane scoring performances as you'll see later on through this list. While a certain scoring outburst against Toronto gets most of the attention, his most impressive could quite possibly have come a few weeks earlier against Dallas.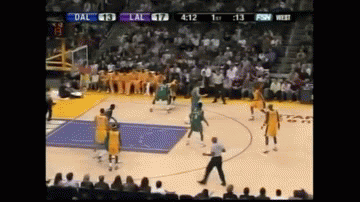 Kobe scored 62 points. In three quarters. Dallas' entire team scored 61 through three. Mamba shot 18-31 from the field and 22-25 from the line in 33 minutes to outscored the Mavs all by himself before sitting out the fourth quarter. Oh, Dallas went on to the NBA Finals later that season. That's an accomplishment we may never see again.
2- Kobe breaks Portland's heart twice.
Something we all can agree on is that Kobe is one of the greatest 'tough' shot makers in NBA history. That talent was on full-display the final day of the '03-'04 NBA season when Kobe tied the game with this ridiculous shot.
Before winning it in overtime with this equally difficult triple.
Oh and that game-winner also was a Pacific division title clincher.
3- Mamba Playoff Magic
Back in the 2006 NBA Playoffs, the Lakers and Kobe had returned to the postseason after a year absence. Taking on the second-seeded Suns, Kobe and the Lakers looked to take a commanding 3-1 lead back to Phoenix but trailed by one with just a few seconds remaining in overtime when Kobe got the ball.
Swish.
4- 81.
No need for much explanation here. The Lakers started off lethargically against the lowly Toronto Raptors, falling behind by 18 points before Kobe took over.
81 points (55 in the second half), 28-46 from the field, 18-20 from the line, and a Laker win. Still unbelievable to this day.
5- Welcome to the Association, Dwight.
Ever wonder why Kobe and Dwight Howard never really got along? Probably because of this (or Kobe never passing).
Kobe officially welcomed a then-rookie Dwight Howard to the NBA with this ferocious jam.
6- Kobe owns Madison Square Garden.
In February of 2009, the Lakers were rolling towards the fourth title of Bryant's career and came into New York with Kobe at the peak of his powers. Sitting in the crowd was famous director Spike Lee, who Bryant was set to work with later on in the night. Kobe did not want to hear Lee brag about a Knicks win the entire night, so he made sure the Lakers left MSG with the victory.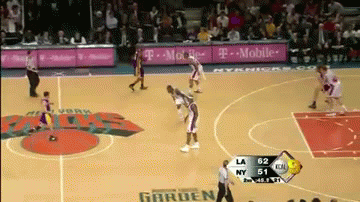 A then Madison Square Garden-record 61 points on 19-31 from the field and 20-20 from the line in a 126-117 Laker win. Thanks Spike.
FLIP THE PAGES FOR MORE OF KOBE'S TOP MOMENTS…