Kyrie Irving and the Nets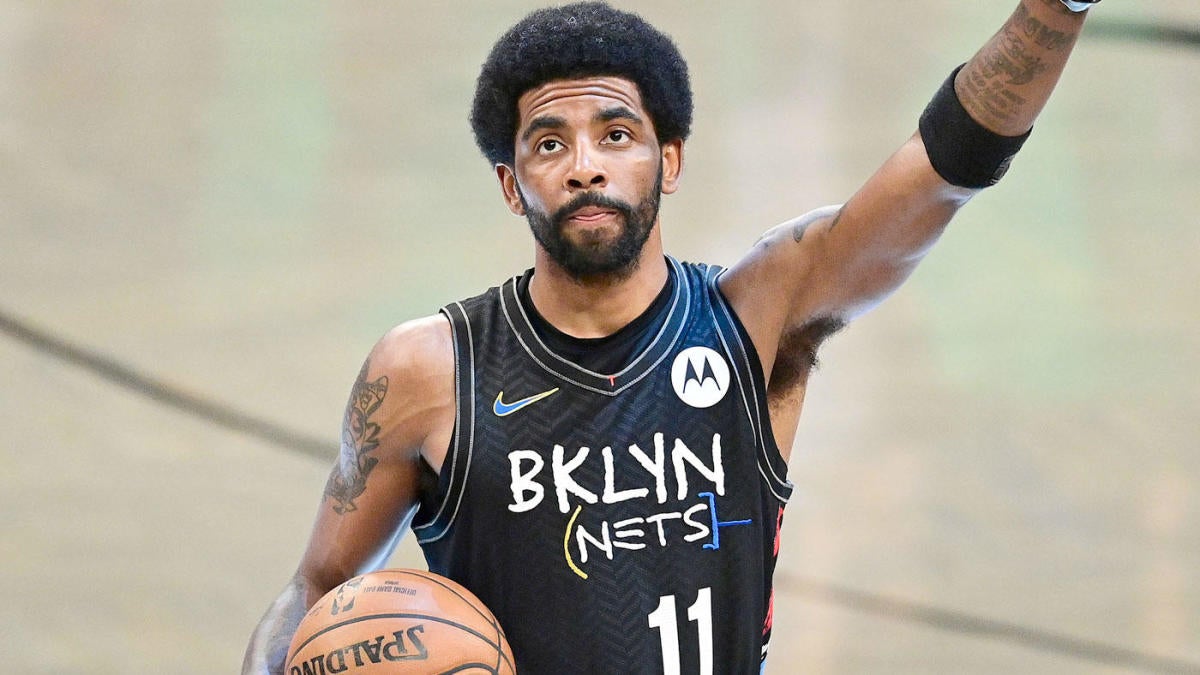 This has been the biggest story in the NBA so far. Kyrie Irving has decided to opt out of taking the Covid vaccine which meant he can't play in home games at Barclays Arena du to the city's local vaccine mandate. At first he just wasn't allowed to play in games at the arena and he was just going to play in the road games he was allowed to play in. Now, the team announced that he won't be playing in any games and won't even be practicing with the team.
He will get paid for the road games since he didn't choose to sit those out but he will miss out on around $17 million by missing the home games. He will make the rest of his $34.9 million salary though.
Kyrie has stated that he isn't antivax but he doesn't agree with how the vaccine is being used against people and they're losing their jobs because they don't want to get vaccinated saying he's standing up for the voiceless. There is nothing wrong with his stance and if he's not putting anyone in danger then this shouldn't be a big deal.
The story should be what will happen with the Nets. They were the championship favorites with Kyrie and they are still the betting favorites to win. They still have Kevin Durant who a lot of people are calling the best player in the league and James Harden who is a top 10 guy. They also have Joe Harris who is one of the best 3 point shooters in the league, Blake Griffin, Lamarcus Aldridge returned, added Paul Milsap and Patty Mills, and have a really good rookie in Cameron Thomas.
The team is still really good and should be the favorites to come out of the East.
Will they though? Will Kyrie's absence be too much of a distraction? Will KD and Harden leading them be enough?
Only time will tell.
What In The World Will Happen With Ben Simmons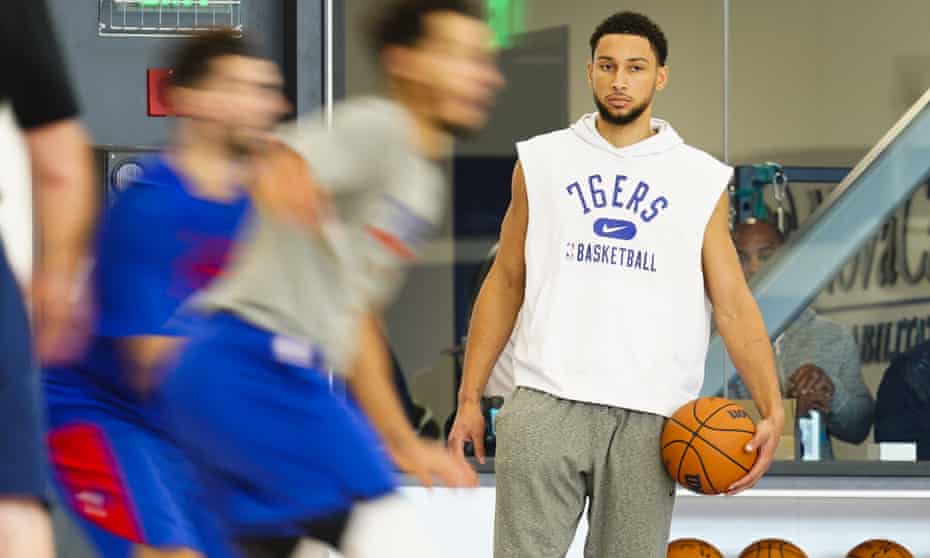 This is the biggest mess in the NBA and I would be lying if I said I'm surprised the Sixers are at the center of it. They have had a lot of messiness and drama over the last few years and this is probably the messiest.
Ben Simmons is still on the team despite asking (demanding) to be traded.
After game 7 in the ECF, the Sixers pretty much threw Ben under the bus and blamed him for losing to the Hawks and that obviously didn't sit well with him. It has been a problem for the franchise ever since. Ben asked for a trade and reportedly moved out of his apartment in Philly. He also missed the 1st two weeks of training camp and said he was sitting out.
They did try to trade him but it didn't work because they were asking for too much so with all the drama they still wanted him to show up so he could raise his trade stock.
It has not worked. At all. It has only gotten messier. He was kicked out of practice and will be suspended for the season opener now.
This is only going to get messier the longer he's in Philly. He does not want to be there and it's obvious. Both sides deserve blame because yes Ben should be better. He was the #1 pick for a reason and hasn't lived up to it yet. However, the team (players/coach/management) share the blame because they threw him under the bus then tried to trade him for more than what he is worth at the moment and were being too stubborn to take less, then asked him to come back knowing he doesn't want to be there.
So what now? How much longer will Ben be with the team? Will they eventually tell him to stay home? Will he show up and play at a high level and raise his trade stock or will he show up and only give 50%?
Lakers 360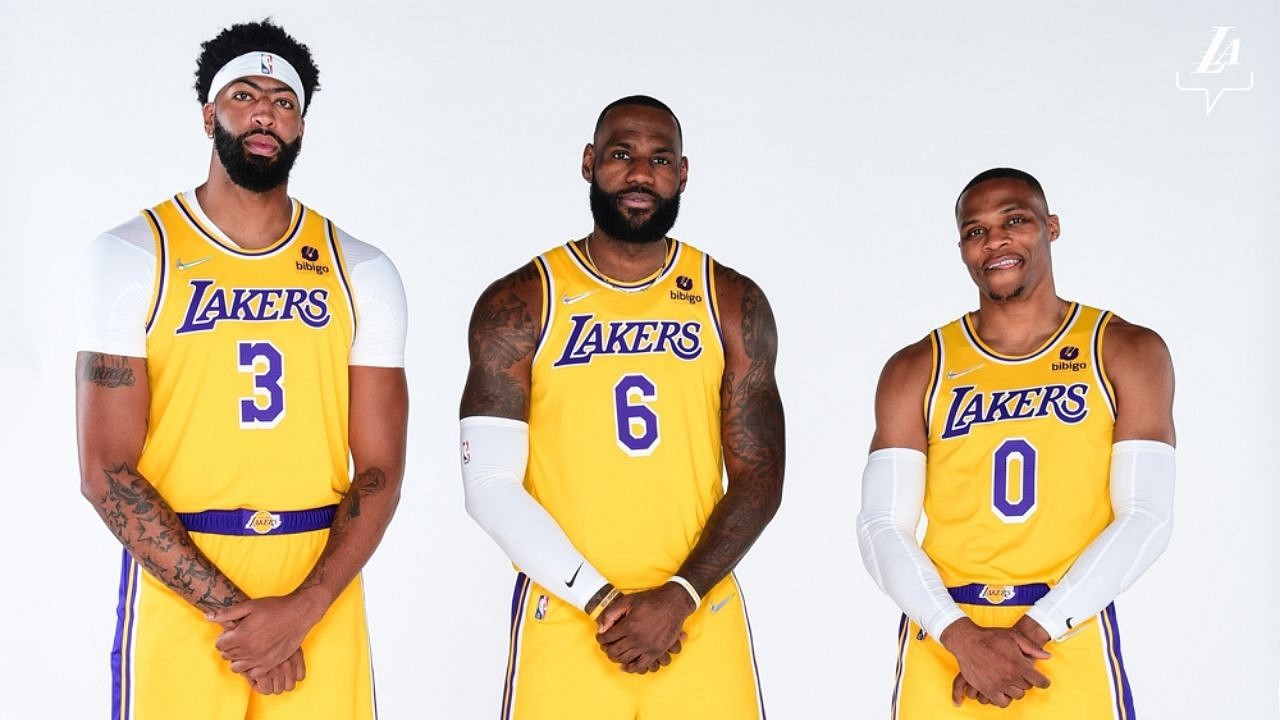 The Lakers are the oldest team in the league with an average age of 30.9. The next closest team is the Heat at 28.8 so they have a couple of years on everyone. Normally, the oldest team in the league doesn't win a championship. This year could be different though.
The Lakers traded for perennial Allstar Russell Westbrook, signed Carmelo Anthony, and brought back former Lakers Dwight Howard, Rajon Rondo, Trevor Ariza, Avery Bradley, Kent Bazemore, and Wayne Ellington plus signing DeAndre Jordan. Yes all those guys are over 30 and Lebron will be 37 this year. But it could work.
They still have Anthony Davis who is a monster, re-signed Talen Horton-Tucker, and signed Malik Monk and Kendrick Nunn who could both be huge sparks for them. The "old" guys they have are all very experienced and they have 5 guys who will be first ball HoF's (if AD continues on his path) so it isn't like they just got a bunch of random old guys together.
These guys really know the game and have 3 top 30 players on the team will go a long ways.
Oh, and Russell Westbrook. The triple double king is back home. For most of his career he's had to do a lot to help his teams succeeded. Some think it was to the detriment to the teams but that's a discussion for another day. This year, Russ won't have to do as much as he normally does while playing with Lebron and AD. This could be good for both sides.
Will it work out though? Will the Lakers age catch up to them? Will. they be able to stay healthy? Will Russ do too much to the detriment of the team? Will Frank Vogel even be able to manage all of the personalities?
The Buck Stops Here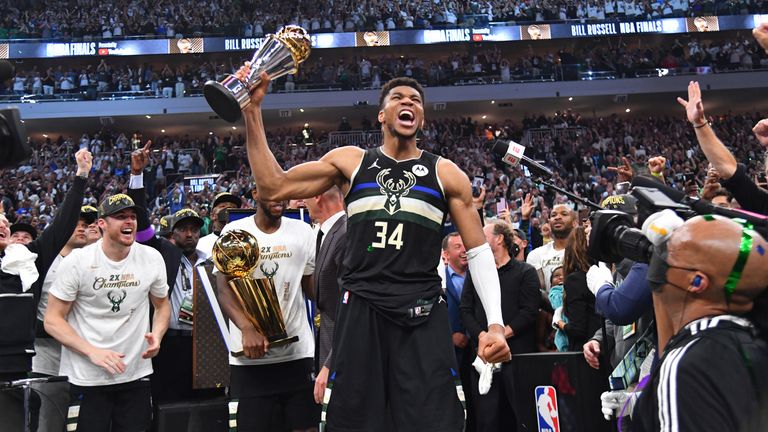 It is really weird for a lot of people to be so low on the defending champs who brought back the bulk of their roster.
I kind of get it though because we were Kevin Durant's foot being a couple sizes smaller from having a different conversation about the Bucks. But, they won and that's all that matters.
Giannis put on one of the best Finals performances we've ever seen and he's back. He could legitimately win his 3rd MVP this season because who is going to stop him from putting up 25+ points and 10+ rebounds to go with All NBA Defense again? Don't try to come up with an answer because no one will.
They are the 3rd favorites to win the title but not many people are high on them.
Can Giannis lead them to back to back titles? Will Jrue Holiday and Khris Middleton be inconsistent again? Did coach Bud silence all of his critics? Will they be like the 2015 Warriors and start a dynasty or are they more like the 2011 Mavs who got hot at the right time?
Do You Believe The Hype
Lots of people are really high on the 2021 draft class and a lot of people think they will be in competition with the best draft classes ever.
There is certainly a lot of talent in the class. There is a mix of potential stars and really good role players. A lot of raw talent though. There are plenty of guys who need to develop a to more first before we can start calling this one of the best classes ever though.
There will be a lot of competition for RoY with guys like Jalen Green, Cade Cunningham, Evan Mobley, Jalen Suggs, and even Josh Giddey. There are also going to be a lot of guys getting lots of minutes and contributing early.
So how good will they be? Will anyone show superstar potential early on? Will it take years to realize how good this class is? Will RoY be one of the top 5 picks?Who is even the best player in the class?
We Want That Old Thing Back
Steph Curry had one of the best offensive seasons ever last year and it didn't mean a single thing. They failed to beat the Grizzlies in a play-in game to advance to the playoffs and missed the post season for the 2nd straight year.
Things have to change this year though, right? They still have Steph, Draymond Green and Klay Thompson will be returning at some point during the season to go along with James Wiseman coming back from injury. They drafted well with Jonathan Kuminga and Moses Moody and also have some good vets in Andrew Wiggins and Otto Porter. Not to mention the players that got to develop last year.
It's the West though. They won't be able to take a night off. From top to bottom the West is stacked with talent. Everyone will be trying to make the playoffs except for the Thunder so it won't be easy.
Is Klay coming back going to solve their issues? Should Steph have put more pressure on the franchise this offseason? Will the rookies (and Wiseman) be ready to contribute? Will the guys that got to develop last season fit into their roles this year? Will Kerr be put on the hot seat?
Zion Zion Zion Zion & Zion
It seems like a mess is brewing in New Orleans. They can't seem to make their stars happy no matter who is in charge.
Lots of reports have Zion with one foot out the door already because of David Griffin's inability to connect with him. This seems like a situation that needs to be fixed asap.
We don't normally hear rumors about the number one pick being unhappy in year 3 so there is probably some truth to it all.
Fans aren't really happy with Zion either though because he cant stay healthy and they think he isn't taking his conditioning serious. To be fair to him though, he had to deal with an injury before his rookie season, then dealt with the season being halted due to covid, then the shortest offseason ever, then a very condensed season. So he hasn't had a typical start to his career.
It sucks for Willie Green though because he is a very deserving coach and if things don't go well he will probably be the first to go.
Will he work himself into shape? Will he be able to lead the Pels to at least the play in? Will Griffin be on the hot seat? Will things get messier? Can Willie Green Manage everything?
Luka Time
The Mavs have a new head coach after failing to get out of the first round again and it will be very interesting to see if Jason Kidd can turn things around for the team.
They still have Luka and that helps a lot. He's currently the favorite to win MVP and that kind of seems like it's too much. Yes he will have the numbers but is he ready to take that next step to help the Mavs get better.
He and Porzingis didn't seem to really get along and it showed on the court but they are still together and say things are good between them. At some point though, Luka has to be held to the same standards as every other superstar in the league and show that he's ready to truly carry a franchise. He obviously can't do it alone but he that doesn't matter when you're a superstar. You have no excuses.
So will he be able to be MVP? Will he and KP figure things out together? Will Jason Kidd help improve his game? Can he lead the Mavs out of the first round?
Now that the storylines are out of the way, lets talks about some predictions.